Iconic Replica Putting Greens
Tour Greens Mid-Atlantic is the leading designer and installer of replica putting greens. Bring the famous Augusta National #12 to your backyard with the help of our talented and experienced installation team. Or choose any hole along the Amen Corner, we have the ability to re-create any iconic green and tailor it to your backyard.
---
The Replica Green Experience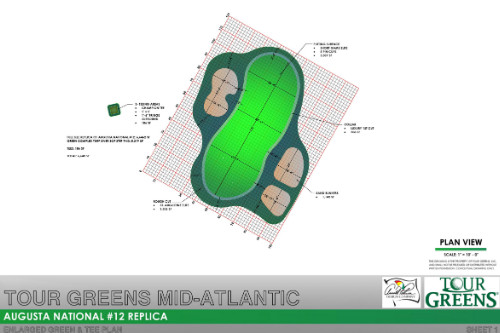 Customized Tour Greens replica putting greens offer a unique experience for any golfer. And now with the ability to add an iconic green like the Augusta National #12 to your backyard, the experience becomes that much sweeter. Our team will evaluate your specific location and tailor your replica green to meet your needs and space specifications.
Tour Greens Replica Putting Green Options:
Our team can create any iconic green, here are a few favorites.
Augusta National #12
Pebble Beach #7
Amen Corner, 11th , 12th 13th , Augusta National
Sawgrass #17
---
Customize Your Replica Green
Each putting surface is designed to look and feel just like a healthy, well-maintained version of the actual green you would like to replicate. Balls roll true and consistent throughout the green, and well struck chip shots will check up. If the replica green has two sand traps and you only have room for one, no problem. Our team can customize your replica green to fit your space.
---
Price Range
Full size replicas starting at $80,000
Downsized replicas starting at $40,000